Where is this Darwin?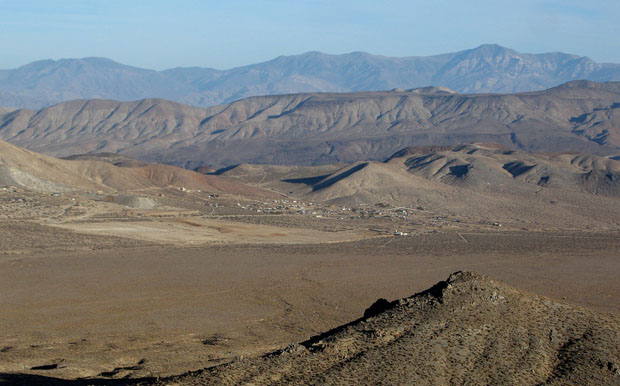 Downtown Darwin, California, as seen in a rare photo taken from the Graf Zeppelin, shortly after its float-off, beginning its 16-day trip to Bremmen, Germany, last year. Panamint Mountains are farthest range to rear; Argus range closer, and then Darwin Hills, directly behind town. Peaks in foreground are the Coso Mountains. (Coso means "something" in Paiute.)
---
Eight miles from Death Valley
Darwin, California, is about eight miles from the west border of Death Valley National Park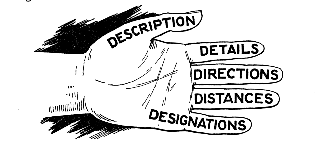 (DVNP), making it the closest "private" town to Death Valley, the second hottest place on Earth.
It is halfway (40 air miles to either) between the highest point in the continental United States (Mount Whitney — 14,496 feet) and the lowest point (Badwater, Death Valley — 282 feet below sea level, the second hottest place on Earth). It is also about 240 miles north of Los Angeles.
At 4750 feet elevation, Darwin avoids the toaster-slot temperatures of the floor of Death Valley, but it still gets plenty toasty in the summer on the hottest days (115 or so) and cold enough in the winter to snow, which it does when you least expect it, from November to May
---
All roads lead to Darwin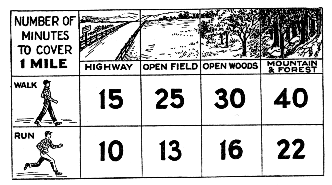 Use this handy scale to figure your travel time to Darwin
Distances from important cities and cultural hubs Darwin is:
94.7 miles from Ridgecrest, California (the nearest city with
a Home Depot, various chain supermarkets and a Wal-Mart).

40.8 miles from Lone Pine, California (the nearest gas station).

2972.6 miles from Marblehead, Massachusetts.

1923.6 miles from Mt. Pulaski, Illinois.

1741.6 miles from Iowa City, Iowa.

223.7 miles from Los Angeles, California.
---
Darwin and vicinity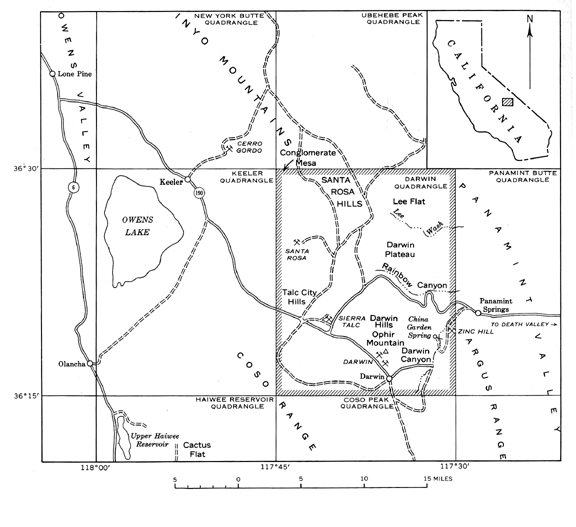 Oops! This map is a wee-bit old, but the roads are in the right place. The road marked as Route 6 is now US 395. The dirt road from Olancha to 190 is now very much paved.
---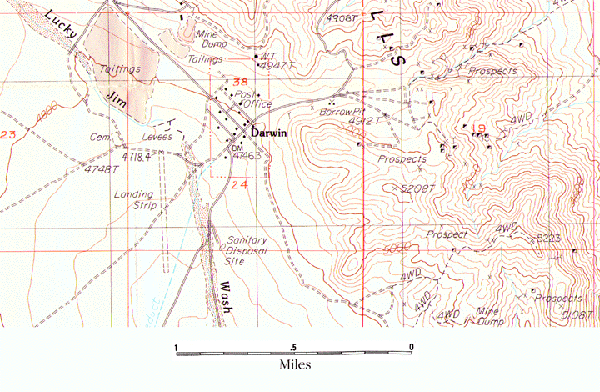 Once in Darwin, you'll need to get your bearings. If you plan on visiting, print out a copy of this map so you can find the hot spots: Darwin International Airport (shown on the map as "Landing Strip"), the cemetery (in case you feel like dying), upper and lower reaches of the much-ballyhooed Lucky Jim Wash, etc. If you borrow something from the "Borrow Pit," don't forget to return it. The "Sanitary Disposal Site" (i.e., the town dump) has been closed for years, so you'll have to use one of the posh dumpsters strategically positioned just outside town, should the need suddenly arise to properly dispose of garbage.
Sorry, there is no street map available of Darwin yet. You'll have to make do with the topo map for now. If you get lost, ask someone where you are, observe the sun or moon's position, or try to locate the north star. Google maps and Mapquest have maps of Darwin that are variously inaccurate and close-to-being accurate.
---
How do I get to Darwin without directions?
You can't. If you just drive around willy-nilly, randomly taking this street and that freeway, chances are that you'll never find Darwin (or anywhere else for that matter). If you don't find specific directions from your city or cultural hub from this ridiculous web site (and chances are, you won't), never fear. Go to Google maps or Mapquest.
Be aware that for some reason (at least the last time Darwin's tip-top cartography team checked) Mapquest sometimes directs you to a mythical community in mythical Fresno-Inyo County. This could be a bother if you were coming from Monaco, for example, and didn't know the rudimentary basics of California county placement. It would be a definite bummer to end up in Fresno and not Darwin.